Here's where you can buy your own print or e-book version of The College Of Songology℠ 101.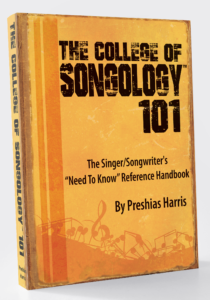 There are two ways that you can buy the book: the print version and an e-book version. Which one is right for you?
Ready to buy now? Scroll down to 'Here's how to order'
The text in both versions is essentially the same. However, the print version includes extensive 'work book' sections at the end of every chapter, allowing you to answer questions and personalize the information to your unique career needs.
The e-book version differs in that, instead of writing in your answers and personal information, you are prompted to start a paper or digital file and build your specific music career plan that way.  The College of Songology 101 contains a large number of links to essential information about every aspect of the music industry.  With the e-book version, you can click on these links and go directly to them from any device.
There are benefits to both versions. I must say that it really helps you to understand how to work successfully within the music business as a singer/songwriter when you use the print version to create your unique workbook.  You will keep it with you and refer to again and again as your career progresses. And the e-book version, of course, has all those helpful links and can be read on any device.
Pricing
The full 8.5″ x 10″ print version (with all the workbook sections): $29.95 (plus shipping )
The e-book version, available from Amazon Kindle: $9.99
Special Offer
Because there are so many benefits to you when you own both versions, I am making a special limited time offer:  When you buy the print version, I will send you a link where you can download the e-book version FREE OF CHARGE.  You will find directions in the print version showing you how to get the FREE e-book version.  I want to do everything I can to help you achieve success in your music career and that's why I want you to have the e-book version as a gift from me when you invest in the print version.
Here's how to order
Print version: $29.95 (plus shipping)
Order your print version with PayPal. It is a safe and secure system: we cannot see any of your personal financial information and you are protected from any unauthorized payments. Your PayPal account allows you to pay from your bank account, debit card or credit card.
~~~~~~~~~~~~~~~~~~~~~~~~~~~~~~~~~~~~~~~~~~~~~~e-book version: $9.99
The e-book version is available worldwide for you to download instantly and read on your laptop, tablet, Kindle and just about any device.  Click HERE to go my Amazon page.
Note: The above link takes you to the U.S. Amazon website. If you live outside the USA, you can go to the Amazon site assigned to your country and search "Preshias Harris."